Last week I was reminded of why I love working in an Arts Collective: because of the amazing and interesting people that come in and out of our doors.  They follow their own paths, dance to their own music (No really.  They make and dance to their own songs.) and encourage me, whether or not they're aware of it, to find my own beat.
I met Secada through my studiomate who runs her own clothing company Sefirah Fierce Designs.  Her clothes are, well…fierce. Likewise, no ordinary mortal could be called upon to showcase them.  Enter Amy Secada (like Cicada); dancer, model, and yoga instructor.  From what I gathered, Amy has lived a life few ever imagine.
She modeled as a teenager, traveling the world, she found dance in the clubs and hasn't ever stopped moving.  She left New York City cause the laws passed under Giuliani began to prohibit the way she expressed herself.  "They give you a $300 ticket for having a boombox and dancing in the streets."  Goodbye US, hello Brazil.  She now lives in South America with the equally crushable world-class capoiera and B-boy dancer, Neguin. They are a power couple if I've ever seen one.
To me Secada and Neguin represent the full potential contained within the human body.  They've spent their time practicing the art of movement.  They even dance together.  It's beautiful to watch.  I've never had a partner who shared the same passion as me.  I can imagine their relationship being beautifully connected.  Seeing is believing.
In 2004 Secada started the Kinetic Junglist Movement, which:
….translates ancestral and urban movement into a contemporary reflection of tribal renaissance. KJM has paved the way for experimental urban expression by transcending the stage into an alter of momentum and contemporary ritual. Through stunning multimedia effects, untamed musical scores, capoeira acrobatics, couture costume design and tribal body paint, KJM welcomes you to the mystical realm of the Junglist.
I feel as shy writing about her as I did being around her.  I am usually not really that timid, and in the right circumstances have been known to ham it up quite thoroughly, but Amy's presence had me awestruck.  Girl crush.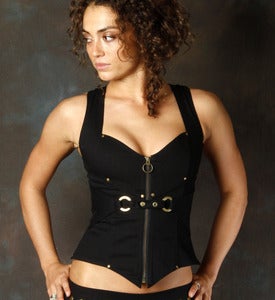 Amy in one of Sefirah's designs.
I don't care what Jezebel has to say about this haircut, Secada makes it look good.  Besides I wouldn't attribute it to whatever DJ they are claiming started the style.  I would give the creds to  artist Alex Gray, who sported the look in his early years.
Amy feels like a girl after my own heart, the kind of person I would have gotten into a lot of trouble with if we had met in our early twenties.  Her presence is arresting.  Maybe it's cause I like her, but her eyes remind me of my own.  Large lids, almond shaped with a twist at each end. They even pop out slightly as mine do.  There is definitely something about her that screams superhero.  Her body is a dancers body, somehow solidly and powerfully present, but capable of making it into unthinkable positions.  I haven't been able to shake the feeling of having to move my body since meeting her, even though I've been exhausted from churning out three of the six garments (Yes, folks. Confederate Articles is starting.  I've even worn a few of the garments around town.  The results have been interesting).  I've reignited my yoga practice and feel inspired to take up some kind of dance.  I love dancers.  They have so much energy for life.
Despite the B(ad)-Boy appearance, I found Neguin to be pretty mellow and exceptionally kind.  I base this off of only a couple of very limited interactions.  Shortly after meeting him he grabbed my arm saying, "Come closer."  Secada, Neguin and I walked down the street arm in arm once, and skipped another time.  We went to a club called Temple on Thursday night, where I watched the two of them get down.  It was amazing to see.  Neguin and I chatted briefly that night.  I've had this theory for years that I could move to Brazil and do just fine, and Neguin confirmed this saying, "You're already Brazilian."  Yesss.  He also touched my arm, asking me if I was cold since I was standing outside with no jacket.  I haven't washed that arm since (just kidding).
We chatted about the crossover between Capoeira and Breakdancing.  The cultural exchange between people of the African diaspora in post-colonial times fascinates me.  This feels like a deep connection.
Their dancing calls to the diaspora.  Secada is incredibly fluid.  Her arms seem to have flown to her all the way from the African continent at times.  Neguin moves in powerful, quick outbursts.  He started playing Capoeira when he was a young kid.  He explained to me that for some reason he was able to train with a group of more experienced artists, so he picked up a lot at a young age.  Neguin seemed able to go from laying flat on the ground to standing up in one imperceptible gesture.  I'm pretty sure I saw him do a back flip in the middle of a crowded intersection.
I have been fascinated by Capoiera for ages, without ever knowing why.  As wikipedia tells me:
In the 16th century Portugal had one of the biggest colonial empires of the world, but it lacked people to actually colonize it. In the Brazilian colony the Portuguese, like many European colonists, opted to use slavery to supply this shortage of workers. Colonists tried to enslave Brazilian natives in the beginning, but this quickly proved too difficult for many reasons, including the familiarity natives had with the land. The solution was importing slaves from Africa.

In its first century the main economic activity in the colony was the production and processing of sugarcane. Portuguese colonists used to create large sugarcane farms called engenhos, farms which extensively used enslaved workers. Slaves, living in inhumane and humiliating conditions, were forced to work hard and often suffered physical punishment for any small misbehaviour. Even though slaves outnumbered the Portuguese colonists, the lack of weapons, the colonial law, the disagreement between slaves coming from different African cultures and their complete lack of knowledge about the land and its surroundings would usually discourage the idea of a rebellion.

In this environment capoeira began to develop. More than a fighting style, it was created as a hope of survival, a tool with which an escaped slave, completely unequipped, could survive in the hostile, unknown land and face the hunt of the capitães-do-mato, colonial agents armed and mounted in charge of finding escapees.

Soon several groups of African slaves would gather and establish quilombos, primitive settlements in far and hard to reach places. After its humble start, some quilombos would develop, attracting more runaway slaves, Brazilian natives and even Europeans escaping the law or Catholic extremism. Sometimes a quilombo would become a real independent multi-ethnic state.Everyday life in a quilombo would offer freedom and the opportunity to rescue traditional cultures lost due to colonial oppression. In this kind of multi-ethnic community, constantly threatened by Portuguese colonial troops, capoeira evolved from a survival tool to a martial art focused on war.

The biggest of the quilombos, the Quilombo dos Palmares, consisted of many villages mostly of African slaves though they also consisted of other ethnicities and lasted for more than a century, resisting, often outnumbered, many colonial attacks. This quilombo resisted at least 24 small attacks and 18 great colonial invasions. Portuguese soldiers sometimes stated it took more than one dragoon to capture a quilombo warrior, since they would defend themselves with a strangely moving fighting technique. The governor from that province declared "it is harder to defeat a quilombo than the Dutch invaders."
I've been asking myself about slavery in the US, and I wonder what differed so drastically that slaves in The States didn't develop any art forms that referenced anger, self-defence, or fighting.    I've been told that the amount colonizers allowed native culture to remain in tact was highly dependent on which European nation was doing the colonizing.  Rumor has it that the Portuguese allowed their African imports to keep parts of their cultures because they believed that once slaves realized the differences between themselves, they would grow to hate each other, making them vulnerable to colonial influence.  This is not what happened.  Both Capoeira and Samba are evidence of the fusion between native and import cultures.
I perceive a total annihilation of native cultures the US.  A stamping out, perhaps similar to Rudy Giuliani's boombox-less New York (if I had the time I would make the argument, using text from The Politics of Difference, that if indeed such laws were passed, there is probably some unconscious racism running just below the surface).
In the face of oppression, we can either fight or run.  Depending on what's at stake, either option might be the right solution.  When do those of us challenged with United States citizenship stop running?  This option, perhaps, has been the automatic response for too long.  Are there things we can do to secretly prepare for battle in unexplored terrain?  How do we create our own quilombos (be them real or metaphorical)?
Neguin, somewhere beautiful.  Probably Brazil.
Looking badass.
My only regret in meeting them was that I wasn't fully able to relax and let loose.  My work was calling me and I had to respond, which meant I couldn't enjoy them or myself in any of the recreational activities I attempted when they were here.  Also, I can be painfully resistant to dancing because I think I look foolish.  Vanity.  Time to be a little less self-conscious about that and learn to enjoy what I have.  I hear they might be returning to San Francisco in August. I'll make sure to tie my dancing shoes on tight if we happen to meet again.
Until then…
Love and Enjoy.
***Also watch this.***